The women in the theatre are screaming as if it's a rock concert. There are eight half-naked young men, sweaty six packs on full display, down among the seats. Some of them are whirling their shirts around their heads. Some are repeatedly slapping their bare chests and flinging their arms out into space, their feet stomping to the blaring beat of an Arabic pop song. As the performers race each other back up to the stage, there's a sense that at any moment the groupies in the audience will throw their knickers onto the stage, scream, "Marry me!" or faint.
This theatrical feat that has women in the audience fanning themselves is not a concert by the latest floppy-fringed boy band, nor a Chippendale performance for drunken hen's nights. This is the surprising new face of Korean contemporary dance.
I went to Korea for a week earlier this month to attend the Performing Arts Market in Seoul (PAMS), a massive event frequented by festival programmers from around the world who come to shop for the most impressive, marketable and, yes, the sexiest Korean performing arts exports. The arts in Korea are big business. Unlike almost every other country in Asia, Korean artists are in the enviable position of being able to say that they have too much money and too much government support. Within the last few years, the government has declared its aim to position the country as the arts hub of Asia, and has embarked on an ambitious plan that involves building a new city for the arts in Gwangju as well as supporting expensive high-profile events like PAMS.
Thanks to the generous sponsorship of the Korea Arts Management Service, I was able to witness this new Asian arts miracle, and duly report back to my homeland. Unable to afford any of the shows on display (despite the hefty subsidies being proffered by the Korean government to any international festival that picks up its choice offerings) I was just window shopping. But I have to say I like what I saw.
There are high quality productions available of every genre, from traditional Korean to modern ballet, hip hop and B-boy to Graham-style dance theatre. There are over 400 dance companies in Korea, who put on over 1200 shows a year in Seoul alone. Over a third of these performances are contemporary dance, so shoppers like me are spoilt for choice. But out of all these genres, it seems that a particular species of young male choreographer and young male dancer -- clutching a dance degree from a prestigious Korean arts university, but schooled on the street in hip hop, break dancing and martial arts -- is currently leading the pack.
The standout performances I saw in this new sub-genre were Park Soon-Ho Dance Project's
IN-Balance and Imbalance
and Lee In-Soo's
Modern Feeling
at Seoul International Dance Festival (SIDance), as well as
No Comment
by Laboratory Dance Project, part of the PAMS Choice program for 2011, which elicited the slobbering fans scenario described above.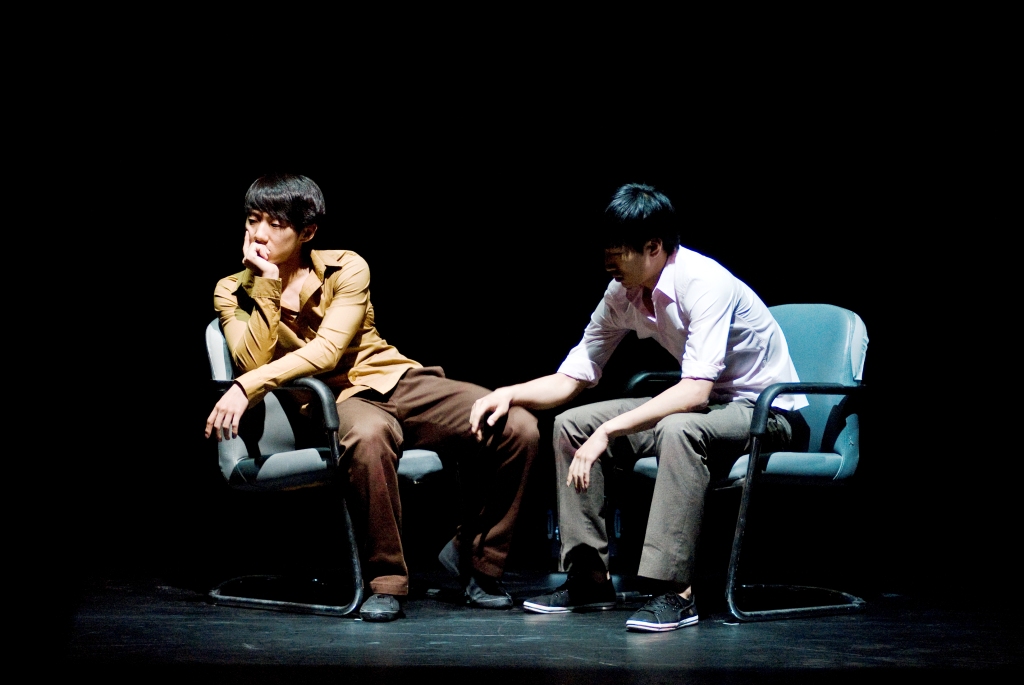 Modern Feeling
is a duet which explores the relationship between two men. There are beautiful lifts, tender weight sharings, intertwinings and pushings apart, fisticuffs and acrobatics. So far, so hum drum. What distinguishes
Modern Feeling
is its witty choreography -- unexpected choices, humour, sometimes slapstick, and sequences of movement so intricate and unusual that they are literally undescribeable. It references popular culture (that one-handed come-and-fight-me gesture from The Matrix) but also culminates in such a feeling of subtle emotional connection that it's hard to see how they managed to do all that, as well as work in a moment of gratuitous semi-nudity.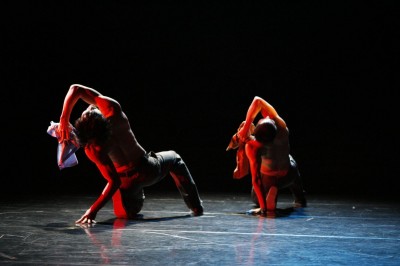 And semi-nudity is definitely a leitmotif of this genre. No problem here with reaching out to a new audience -- this is as easy as selling soft porn! These performances are like an elegant artistic striptease. The dancers begin perfectly attired in true Korean metrosexual style, from their slacks, stylishly slim-cut button-down shirts, sometimes even waistcoats, and herringbone blazers, down to their shiny brogues, or even more trendy lace-up low-top sneakers. As the dance develops, the movement becomes wilder, the performers sweatier, and the clothes start coming off.
No Comment
is the least choreographically complex work of the three, and the one that is most upfront about its popular (read, sex) appeal. It starts with a single male dancer, one hand thumping against his chest beneath his shirt in a stylised heartbeat. Seven other male dancers come on and join him. They gradually introduce other simple but virtuosic sequences of movements -- running and flinging themselves across the floor in surprisingly long slides, and charging into rough and ready walking handstands before overbalancing. The only real dance phrase in the entire work involves barrel rolls and back flips -- this work is not shy about capitalising upon its dancers' physical prowess.
But the most effective, and indeed the sexiest, moment is the simplest one: the dancers, their immaculate shirts by now attactively untucked, stand with their hands nonchalantly in their pockets, stamping one foot to the beat, while they look about them with apparent disinterest, as if their moving foot has a life of its own. Gradually the stamp gets bigger, until the foot is lunging forward, side, then back, while the arms are flung out from the chest, the entire body ultimately compelled by the Bollywood beat. This movement goes on and on. Just when the audience thinks it's over, as the music fades and the lights dim, the track loops, the lights come back on, and the dancers (minus another piece of clothing) start again.
There's not a lot of subtlety to
No Comment
. After watching it you are hoarse from screaming, and feeling somewhat used and abandoned. If, as the program delicately notes, it is meant to "appeal to the essence of life within an audience member", then it does so by ramping up the hormones and the urge to procreate. For this reason, I prefer
IN-Balance and Imbalance
(which also culminated in much audience cheering) if only because its morning-after effect is more languid glow, less wham-bam thank you ma'am.
Imbalance
was performed as part of a triple bill called Korean Identity Through Dance, a program supported by UNESCO which is now in its 16th edition (which just goes to show how entrenched Korean contemporary dance really is). Unlike the other two works whose choreographers and dancers are from Korea National University of the Arts,
Imbalance's
choreographer Park Soon-Ho is a graduate of Hansung University (maybe they make better lovers there?).
But there are a lot of similarities. The work starts with two men walking in and grasping hands in a smoky downlight. Maintaining their grip they manipulate each other, twisting their arms behind their backs, and rolling each other down to the ground and up into lifts. It looks like a recipe for a dislocated shoulder. As this complex wrestle-play continues, two traditional Korean drummers enter with their instruments and start to speak in Korean. In heavily stylised dramatic tones, they recount a traditional animal fable. Meanwhile a third dancer joins, allowing the contact group to create more and more difficult lifts on each other, walking up each others' bodies into sideways suspensions like pole dancing.
The dancers move very deliberately, working up into poses, and then relaxing gently down. The group of dancers grows. Some of them are even girls! The musicians start drumming, as in groups and pairs, with individuals joining in then backing out, the dancers transition gently into shapes, then slide down and walk away.
Suddenly there is only a shirtless man lying on the stage. One of the drummers approaches him, exhorting him in Korean. He drums on the bare skin of the prone body, and tosses the dancer like a puppet to and fro. The dancer, as if exhausted, launches into a solo which alternates between an incredibly rigid high-shouldered position and completely controlled floppiness. The drummers accompany him with heavy rhythms on their instruments and shouted traditional tunes, which build into a yelling climax.
The song ends and the soloist puts his shirt back on. But this is only a brief lull. The male dancers begin manipulating each other once again, which leads to sharp and clever rhythms of movement, then stylised fighting. Reeling like punch-drunk boxers, the dancers block each others' attacks to the wailing shrieking song of the drummers. From here on, my notes and my memory desert me, as I sit mesmerised by the energy whirling on stage. I remember the male dancers driving themselves into huge squatting slides, from hand to hand on the ground like brachiating apes. I remember another moment perfect in its simplicity -- the men standing upstage, each in his own tiny circle of light, rocking their heads from side to side, and in the silence only the sound of their breathing. And I remember the feeling of the drumming frenzy so tight in the diaphragm that I was not surprised to hear members of the audience crying out.
Another moment which I feel I saw repeated many times in works of this genre during my week in Seoul -- the men standing in a line upstage, and then just striding in a line straight towards the audience, all the way to the footlights. It looks like something taken from a fashion show and in its audacious simplicity, it is perfectly sexy.
Certainly these young Korean men look set to take the dance world by storm. But cute as they are, they make me wonder what they are leaving in their wake. Where are the women? In this genre, women can't compete. The comparative strengths of the average female body -- flexibility, well-formed arches, a strong sense of line and capacity for finesse -- are simply unnecessary in works like these, works which depend on wit and bravado, turning rough lines and raw energy into virtues. Women cannot hope to equal the sheer upper body strength and acrobatic capacity of men. In well-choreographed examples, like IN-Balance and Imbalance, the women look well integrated, but unexceptional. In poorly-choreographed examples, they simply look weak.
Contemporary dance in Korea, as in many other countries, has long been dominated by women. However, again similar to many other countries, the traditional view of dance and dancers has been a negative one. Dance was considered a low status activity, and therefore could be comfortably left within the female domain. It was only when Korean women dancers took the extra step towards institutionalism by establishing a dance department at Ewha Women's University in 1963 that dance began its rise in reputation. Korean society deeply values learning, and the association of university credentials with dance has culminated in 49 departments of dance currently in existence across the country, which produce over 2000 graduates every year.
The amount of money being pumped into the dance industry can't hurt either. Dance is now a secure career, and, with events like PAMS pushing Korean dance abroad, one with opportunities for international travel. The cynical feminist in me is saddened but unsurprised that men are getting into the act and elbowing women out of the spotlight, just as dance in Korea is becoming both profitable and respectable. But perhaps it is only natural that the tide should turn after the dance field has been dominated by women for so long, and that artistic preferences should embrace instead the new, the groundbreaking, the male.
I certainly would not wish away the new generation of male dancers and choreographers. It will be interesting to see where they go from here, how they transition from wunderkinder into established artists, and how they eventually integrate with the rest of the Korean dance community. And it will be interesting to see how the women fight back. But in the mean time it is interesting merely to watch these fashion-plate bad boys get their kit off, again.
Reference:
An Overview of Korean Performing Arts: Dance in Korea
, published by Korea Arts Management Service, December 2010.